Photo Campaign by African Students Crushes Stereotypes
17/02/2014
Instead of heading to the streets to express their discontent about the misconceptions surrounding their native countries, a group of African students has launched a photo campaign to create more awareness about their region.
According to Teo Kermeliotis in an article on CNN, there are many people who regard the entire African continent as one homogenous region. In fact, he states that Africans in the US are regularly asked questions such as 'Do you speak African?'
Tired of these existing stereotypes, a number of African students in the US created a photo campaign to dispel these misunderstandings once and for all.
Kermeliotis says the goal of the social media campaign, called 'The Real Africa: Fight the Stereotype' is to educate people about Africa. Moreover, the series of photos also intends to raise awareness about African stereotypes.
On the photos in the campaign, the members of the African Students Association of New York's Ithaca College  are shown wearing or holding the flag of their native country. Rita Bunatal, who is head of PR for the association, says the organisation chose this approach to show off the beauty and power of all the different flags. Moreover, the flags also show that contrary to popular belief, Africa is not one big country. According to Kermeliotis, the photos are accompanied by quotes that were devised by the students themselves, for example 'Africans do not all look alike' and 'Africa is not a land filled with diseases.'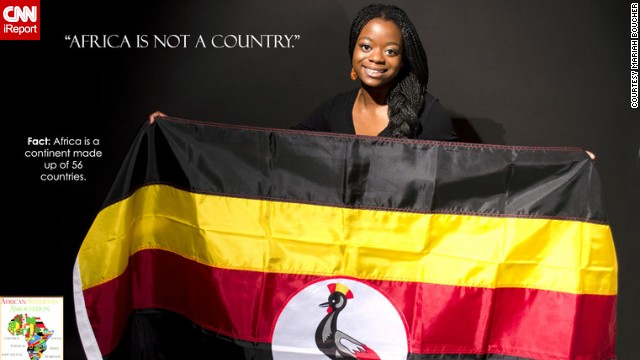 Next to the quotes, Kermeliotis says, the campaign also features many facts about Africa to strengthen the students' statements. He gives the example of the declaration 'I don't speak 'African' because 'African' is not a language,' that was made by one of the students.
This statement is followed by the fact that 'there are an estimated 2,000 languages spoken in Africa.' According to Bunatal, these facts are meant to educate people in order to stop them from making untrue statements about the African continent.
The photo campaign was launched on 20 January and since then has been viewed more than 5,000 times in CNN's iReport platform, Kermeliotis says. Moreover, the gallery was shared over 2,000 times on Facebook as well. Bunatal believes the success of the campaign shows that awareness can be created with simple efforts. She hopes effects of the campaign will outstretch the Ithaca College campus and will spread itself all over the world.
Back to Blog